Sunday Morning Worship – REIGN OF CHRIST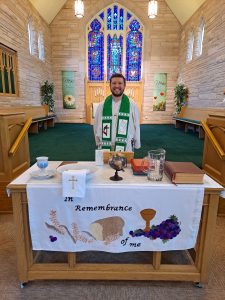 SERMON: "Enjoying God's Presence Fully" – Our purpose in life.
SERIES: Biblical Stewardship: "First Fruit" – Part 1 of 3
SCRIPTURE: Deuteronomy 30:15-20 / Romans 12:6-21 / Matthew 19:16-22
STORY: Jesus encounters a 'Rich, Young Ruler.'
THEME: We believe each person, as part of God's good creation, has been created with a purpose to enjoy God's presence fully; we offer ourselves in service to one another that each person may recognize it and living into it.
SEASON: Extended Advent – 1 of 7
DAY OF RECOGNITION: Reign of Christ
SACRAMENT: Holy Communion
LOCATION: Our beautiful sanctuary
SPECIAL OBSERVANCE THIS SUNDAY: For the Reign of Christ, we will have a musical journey through the Christian Year.
TO VIEW BULLETIN, GO TO THE 'WORSHIP' TAB AND CHOOSE 'SERVICE BULLETINS.'
THE BULLETIN CONTAINS ALL THE SONG LYRICS AND LITURGY FOR YOU TO PARTICIPATE FULLY VIA FACEBOOK.
TO VIEW THE SERVICE (LIVE OR LATER),  CLICK ON THE FACEBOOK LINK AT THE BOTTOM OF THE MONTHLY CALENDAR.