Worship on Wednesday (W.O.W.)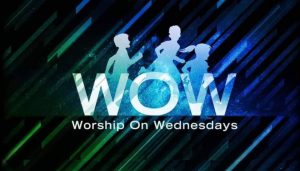 TOPIC: "Spiritual Gifts" – by Kent Millard (6 sessions – 9/29, 10/6, 10/20, 10/27, 11/3, 11/10)
Worship on Wednesdays (W.O.W.) began mid-August 2021 and is led primarily by Pastor Caleb.  This is most unlike Sunday morning worship and may not feel like a "service" to some, but may be exactly what others may need.  The style and topic will be different from Sunday morning services.  W.O.W. takes place in the upstairs Fellowship Hall of the church where we have the convenience of open space and air conditioning.  The style and attitude is very informal.  Large-font easy-to-read lyrics are projected on the TV for full participation.
(1) An opening songfest featuring about 5 songs (gospel hymns, choruses, praise songs, etc.)
(2) A study on a particular topic, often presented as a book study (worshippers do not need copies).
(3) A sharing of joys and concerns with a prayer to follow.
(4) A final pick-a-hymn to close the service.
Below the monthly calendar are links to our Facebook page and ZOOM.