Sunday Morning Worship Service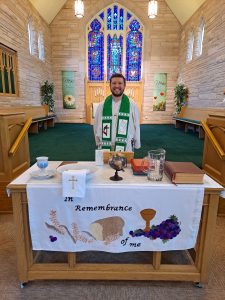 SERMON: "The 'Called Out' Community"
SCRIPTURE: Proverbs 22:1-2, 8-9, 22-23 / James 2:1-8, 14-17 / Mark 7:24-30
STORY: Jesus and the Syrophoenician Mother
THEME: Ubuntu – "I am because of you" – "I am a human through you."
A desperate mother called Jesus out on His narrow understanding of His own earthly mission.
God put us in community so that we can "call out" each other and learn from one another.
LOCATION: Our beautiful sanctuary
TO VIEW BULLETIN, GO TO THE 'WORSHIP' TAB AND CHOOSE 'SERVICE BULLETINS.'
THE BULLETIN CONTAINS ALL THE SONG LYRICS AND LITURGY FOR YOU TO PARTICIPATE FULLY VIA FACEBOOK.
TO VIEW THE SERVICE (LIVE OR LATER),  CLICK ON THE FACEBOOK LINK AT THE BOTTOM OF THE MONTHLY CALENDAR.