Sunday Morning Worship Service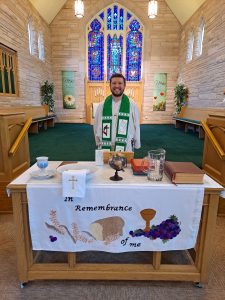 SERMON: "Having Holy Dissatisfaction" – Growing as our spiritual authority
SERIES: 'The Why of Discipleship" – Part 2 of 3
SCRIPTURE: Deuteronomy 30:15-20 / Romans 12:6-21 / Matthew 19:16-22
STORY: Jesus encounters a 'Rich, Young Ruler.'
THEME: Salvation, or Eternal Life, is not a transaction.  The Rich, Young Ruler thought being 'saved' should be a reward for his good words.  He did what was expected.  Jesus tells him that eternal life is about the quality of relationship he must have with God.  A lifelong goal.  Christians gain authority and respect to make disciples of Jesus Christ by challenging ourselves to grow.  Answering our call to growth is what inspires others to join us on the journey of salvation.
SEASON: 'A Season of Creation' – Endangered & Threatened Species – Part 2 of 4
LOCATION: Our beautiful sanctuary
TO VIEW BULLETIN, GO TO THE 'WORSHIP' TAB AND CHOOSE 'SERVICE BULLETINS.'
THE BULLETIN CONTAINS ALL THE SONG LYRICS AND LITURGY FOR YOU TO PARTICIPATE FULLY VIA FACEBOOK.
TO VIEW THE SERVICE (LIVE OR LATER),  CLICK ON THE FACEBOOK LINK AT THE BOTTOM OF THE MONTHLY CALENDAR.